Generating theory on #coaching
March 7, 2015
What is needed then is a method for realising potential, for enabling people to perform at their very best (Somers, 2007, p. 2).
Recapping
The aim of this study is to generate theory about the perspectives of staff on what they consider to be coaching in secondary public schools in Perth, Western Australia; an interpretive study of one school.
As both a participant in the proposed study holding a formal leadership role, as well as an observer analysing the case study school's processes at the commencement of 2015, ethical considerations are paramount:
Staff were invited to participate in the study;
questions were shared and discussed prior to interviews being undertaken;
identities are concealed in order to ensure anonymity;
and draft transcripts were returned to pilot interviewees to prompt further insights, confirm perspectives, and maintain integrity of theories expressed.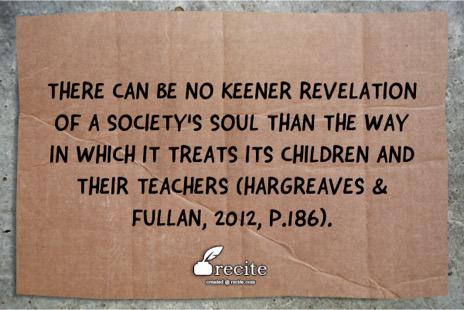 Continuing
My own paradigm as a post-graduate student, teacher of English, and administrator with line management responsibilities was brought into question. While uneasy tensions ensued, enlisting the principal's early support for inquiry proved advantageous.
The literature warned that "careless fieldwork can provoke resistance" (Fielding, 2004, p.237), so I maintained a scrupulously sensitive, responsible approach. As a practice, research in my own work setting involved
a dialectic of cooperation and resistance, and the tension between these qualities is a potential analytic resource as well as an important way to gauge the adequacy of the data and monitor threats to the fieldworker's welfare (Fielding, 2004, p. 236).
Initial sampling will lead to ongoing observations which will also inform the research, dependent on categories that emerge during data analysis. Guiding questions are central to the study:
What are the aims or intentions of staff in regard to coaching? What reasons do they give for these intentions?
What strategies do staff say they have for realising their aims and intentions and what reasons do they give for employing those strategies?
What do the staff see as the significance of their aims or intentions, and their strategies and what reasons can they give for this?
What outcomes do staff anticipate from pursuing their aims or intentions, and what reasons can they give for this?
CC Image Source 
Analysis of data is dependent on
a tightly-woven iterative process involving constant comparison, which leads to the gradual development and refinement of theory grounded in the data (Tuettemann, 2003, p. 11).
While views are likely to vary, hope for successful outcomes generated by sustained coaching practices was commonly expressed during pilot interviews. Direct observations also reinforced interviewees' positive perceptions, along with considered concerns related to deprivatising practices, particularly where strategies are perceived as imposed external accountability measures as distinct from internal accountability (Fullan, 2007; Fullan et al., 2015).
This sense of belonging within the school's context leads to confirmation of the calibre of much of the data; lines of inquiry effectively remain open.
CC Image Source
Vignette 1 – Empowerment
Coaching is changing me and the way I operate because I've always been the sort of person who wanted to fix things for people, and always coming up with ideas like "How about this solution, how about that…"  and thinking that it's helping them, but you realise after a while that it doesn't really help. It might give them some ideas, but then they've still got to go away and work out how they feel about it all. With the coaching, I think they get to a good understanding about how they feel, and can move on from there.
Vignette 2 – Recognition
My aims are to improve my communication skills and therefore improve the relationships. As a leader, there are other elements of your relationships with people that make the need for communication to be more sophisticated – there's that pressure. If you are leading change, or leading performance, or you're trying to build a culture of collaborative practice, a safe supportive culture, then one of the elements of that is communication. It's critical. One of the elements of communication is helping people feel confident about who they are and what they bring to something. It shouldn't be about hero leaders and experts all the time. It should be about recognising different personalities, and different strengths, and finding ways to have people bring those out and communicate them.
Selected references
Fielding, N. (2004). Working in hostile environments. In Seale, C., Gobo, G., Gubrium, J.F. & Silverman, D. (Eds.). Qualitative research practice. London: Sage, pp. 236-266.
Fullan, M. (2007). Change the terms for teacher learning. National Staff Development Council, 28(3). Retrieved March 10, 2015 http://www.michaelfullan.ca/media/13396074650.pdf
Fullan, M., Rincon-Gallardo, S. & Hargreaves, A. (2015). Professional capital as accountability. Education Policy Analysis Archives, 23(15), pp. 1-22. Retrieved March 5, 2015 http://epaa.asu.edu/ojs/article/view/1998/1511
Hargreaves, A. & Fullan, M. (2012). Professional capital: Transforming teaching in every school. New York; London; Teachers College Press.
Somers, M. (2007). Coaching at work: Powering your team with awareness, responsibility and trust. San Francisco, CA: Jossey-Bass.
Tuettemann, E. (2003). Grounded theory illuminates interpersonal relationships. In O'Donoghue, T. & Punch, K. (Eds.). Qualitative educational research in action: Doing and reflecting. RoutledgeFalmer: London and New York.