just when you think it's safe
March 3, 2013
March 1 was officially the signal for summer's last gasp, and temperatures have definitely been falling, but that didn't stop bushfires closing down our school last week.
 Twitter Image via @JandakotJoe: https://twitter.com/JandakotJoe/status/307092468934008832/photo/1
As the smoke nimbus massed dirty orange on Thursday, our principal adopted a directive mode of interrupting the scheduled lunch break, then period 5, harnessing information via her mobile, issuing short directions, evincing calm and dispelling panic.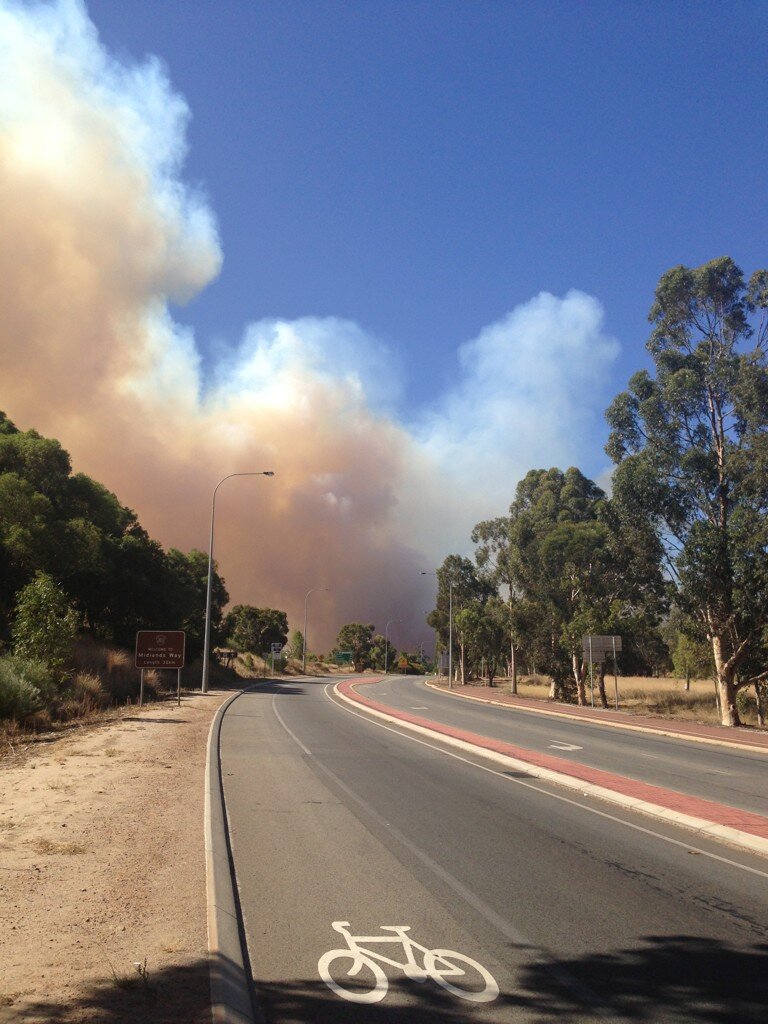 Image via Twitter @Barnsy_Lisa: https://twitter.com/Barnsy_Lisa/status/307027599345995778/photo/1
Events progressed quickly: K-12 students gathered in the school gym; rolls were taken in form class groups; we learned that buses were cancelled; staff who lived nearby raced home to check livestock, collect photos and bedding, just ahead of sirens, police cars and fire-fighting roadblocks to return to school and share frightening images snatched on smartphones.
The Bullsbrook bushfire viewed from the eastern suburbs. Picture: Paul Wimsett: http://www.perthnow.com.au/news/western-australia/gallery-e6frg13u-1226587886368?page=11
Emotional intensities varied. Some littlies wore molten expressions of terror, while staff and older students undertook comforting. Other groups broke out hacky sacks, shot baskets, wielded badminton racquets to flip shuttlecocks across the gym, or unpacked colouring pencils and sketch books. One still, seated figure read throughout. Relay servings of bread, crumpets and bottled water were distributed.
Distraught parents were unable to get through, other than by mobile device; some who turned up had dogs on leads, toddlers in strollers, babies over shoulders, extended family members in tow. Except for the strange edginess, our gathering resembled a picnic outing, or scout jamboree. Sisters' boyfriends pulled utes and 4WDs into the bus bay to stroll away with gratefully released siblings.
3pm passed. Helicopters were overhead. 4pm, 5. Tenacity, fortitude, patience and fear played out in equal measure. Beside the gym doors, an Education Assistant whose property was close to the bushfire front smiled and joked with parents as names were checked, students hailed and delivered safely to their family. Steadily, numbers in the gym dwindled.
One year 12 boy would make it to his
KISS concert
at Perth Arena.
All rights reserved by PerthSteve: http://www.flickr.com/photos/stevemarr2011/8516482795/sizes/l/in/photostream/
And me? I drove home around roadblocks forcing a detour through Joondalup and into an angry orange sky, counting blessings (no property damaged, no-one injured), full of admiration for people – colleagues, students, families, firefighters and police – who were in a tense situation doing what needed to be done. My mother in law even rang around 7.30pm to make sure I was safe.
With school closed on Friday, regional office directed our staff to
Governor Stirling SHS
fresh from its $63 million rebuild, and that was another adventure: