you are not alone (action research # 3)
October 1, 2012
CC image source http://www.flickr.com/photos/opendemocracy/521652588/sizes/o/in/photostream/
These last days of third term oscillated more than others, but not because of conflict or pressure at school.  The shift that occurred was in the ground beneath me.
CC image source http://www.flickr.com/photos/40291191@N07/5622045233/sizes/l/in/photostream/
Two dreams I had in the week explain the blinded segment depicted in the right upper pane of this Johari window…..
Walking beside a pool with some kind of tour guide, I contemplated swimming in the lap lane.  Water was turbulent, like surf, too confronting for pool water – more like ocean waves with air spray.
Different dream, different water, greater misgivings and concern: I dropped my iPad into sink water.
CC image source http://www.flickr.com/photos/cubagallery/5376564825/sizes/l/in/photostream/
In waking, daily life I continued with the Action Research project I'm tackling for Uni. Reality, though, is that feedback received about our Gifted & Talented program created waves.  Contemplation waves for me, but very real concerns for parents.  Nerds? One parent emailed – My son would hate being called a nerd. Personally, I proclaim the label with pride, but he had a different perception.
What could I do about managing perceptions? Listen to them, for one.  Acknowledge their presence. Difficult, uncomfortable territory, though, and that's where the dreams helped slough away at the edges of my own strongly-held convictions.  G&T students are proud nerds, yes? Well, not according to them or their parents.  And definitely not if they're being mocked for their ability as successful learners.
CC image source http://www.flickr.com/photos/callofthewildwales/3196584232/sizes/o/in/photostream/
According to Little, the development of professional learning networks is a crucial feature yielding system change in schools:
Research provides some evidence that networks may help individuals and schools accomplish what they cannot accomplish on their own. They expand the pool of ideas, materials and assistance on which individual schools can draw;
they engage participants in mutual problem-solving; and they inspire and recognize accomplishment. (Little, 2005, p. 277).
In the spirit of celebrating accomplishment, our G&T community held an achievers' lunch on the last day of term: Distinction Awards in the Australian Mathematics competition; Band 10 in NAPLAN; student leaders of Tournament of Minds challenge; and top debaters in the 2012 WA Debating League competition. 15 students. Staff dropped in, too, and we toasted with apple/ guava juice in paper cups, shared Subway rolls and cookies. Devlyn and John told jokes. Jen – Maths Head of Department – made a speech, then distributed awards. No-one failed to show up on the last day.
Afterwards, we gathered as an audience in the drama room to view our Tournament of Minds team in action (this, they organised themselves, and  parents came along to video). A successful school day built on collaboration, support and genuine goodwill. So, why the dreams?
Here's what I learnt about my role as caretaker of learning in our school:
I am, at most times, navigating chaos
Outcomes are unpredictable
Uncertainty provokes fear
Reading Thinking in Systems helped work through my emotional responses; I took solace from these words:
A system that can evolve can survive almost any change, by changing itself. (Meadows, 2009, p. 159).
Then there was Twitter. Pasi Sahlberg's presentation at the recent Dean's Lecture Series (Melbourne Graduate School of Education) yielded this screenshot: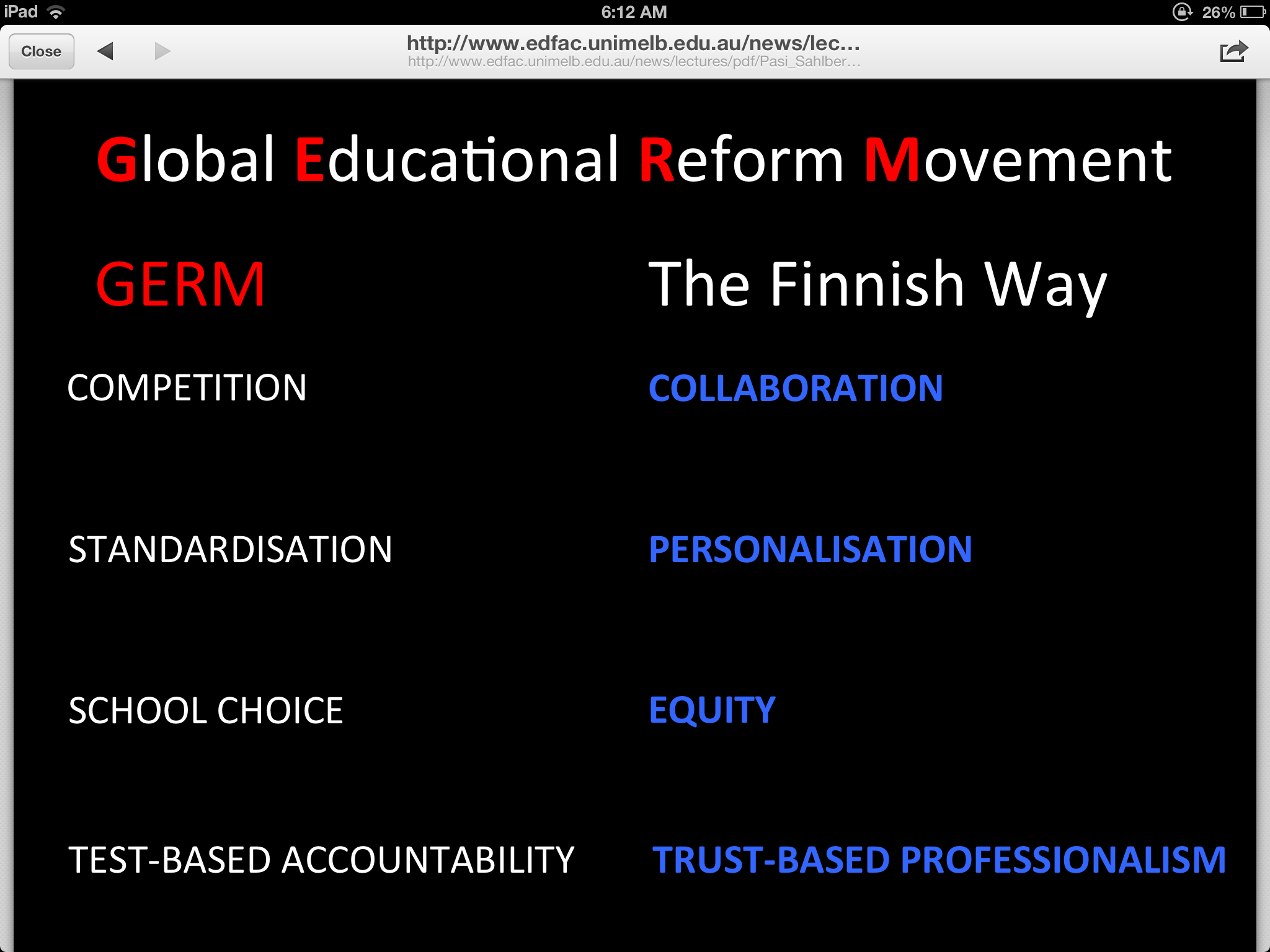 (Sahlberg, 2012).
Neat counterpoint to prevailing school improvement philosophy, I thought. Take courage, resist entropy, and: You are not alone!
Selected references
Little, J. (2005). Big change question professional learning and school-network ties: Prospects for school improvement. Journal of Educational Change, 6(5), 277–291.
Meadows, D. (2009). Thinking in systems a primer. London: Earthscan. Retrieved September 24, 2012 from EBSCO host.
Sahlberg, P. (2012). Finnish Lessons: What can the world learn from educational change in Finland [Session Notes]. Retrieved September 30, 2012 from website: http://www.edfac.unimelb.edu.au/news/lectures/Pasi_Sahlberg.html